PIQNIC – a modern approach to work
from a UK certified partner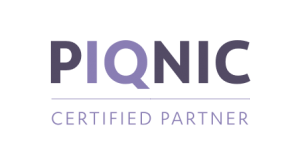 A new way of working with PIQNIC
Many businesses are looking for new ways of working; finding strategies to improve productivity, connect teams and bring workflows and information together into one place. PIQNIC is a single smart platform which is designed to deliver a modern approach to work.
What is PIQNIC?
PIQNIC is an innovative, beautifully designed, smart software platform which manages everything: files, tasks, projects, decisions, teams and communications. The big difference between PIQNIC and other work management/planning software, though, is that it also offers incredibly powerful and highly secure document management. Increasing numbers are turning to PIQNIC because it helps them to:
approach work in a way that meets today's challenges
stores and safeguards their information whilst providing instant access to it
replace the need for multiple apps/software
manage everything in one place: from decisions and project management, through to document management, documents and files
reduce their reliance on distractions such as meetings and emails
ensure their data, information and communications are completely secure
manage their business with ease
What can you expect from PIQNIC?
PIQNIC wants your experience to be a positive one and as such they work hard to provide outstanding customer services, combined with user-friendly software and continuous innovation. If you're looking for a powerful, simple way to manage your business, encourage collaboration and manage all your documents and files, we believe that PIQNIC provides a modern solution.
Find out what you could do with PIQNIC. 
To find out more about PIQNIC and how it can help you and your business find a way of working which is designed to meet the challenges of today, get in touch with us for further information.
To book a demo or let us know how we can help you: